What is Cosmetic Dentistry?
Cosmetic dentistry is a specialized branch of dental care. The main goal of cosmetic dentistry is to improve the appearance of your smile, which in turn enhances your overall appearance. Cosmetic dentistry may include several types of dental treatments. Our experienced dentist, Dr. Clive Rosenbusch, is pleased to offer high-quality cosmetic dentistry in Boca Raton, FL, to help you achieve the smile of your dreams. Enhancing the beauty of your smile can boost your self-esteem and give you the confidence you need to smile with pride! We may recommend cosmetic dental treatment in order to:
Lighten the color of discolored, stained, or yellowed teeth
Restore teeth that are broken, chipped, or cracked
Correct tooth misalignment and crowding
Improve the appearance of irregularly shaped teeth
Close gaps and spaces between the teeth
Some of the cosmetic dentistry treatments we may recommend based upon your individual cosmetic goals include teeth whitening, dental veneers, Invisalign®, and complete smile makeovers. Dr. Clive Rosenbusch can utilize these treatments and more to help you achieve a beautiful, attractive smile that you can be proud of.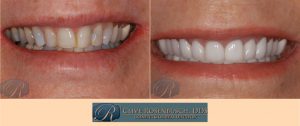 How to Choose a Great Cosmetic Dentist
When picking a cosmetic dentist, it is important to choose one with adequate experience and training. Dr. Clive Rosenbusch has received extensive training in cosmetic dentistry, and he has been practicing dentistry for over 30 years. Our dentist focuses on cosmetic dentistry and is committed to helping you achieve beautiful, long-lasting results. In addition to his years of training and experience, Dr. Clive Rosenbusch is constantly supplementing his training and skill set with continuing education courses, seminars, and conventions in order to best serve his patients.
We welcome you to contact us today to schedule your consultation or learn more about how cosmetic dentistry can improve your smile!