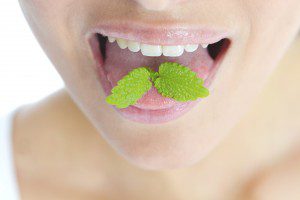 'You have bad breath!' No one wants or likes to hear it, but it's worse not to know it. There can be many factors to your bad breath, all treatable. While poor dental hygiene accounts for most cases of halitosis, bad breath can sometimes signal another underlying medical condition. If you are experiencing bad breath start with a visit to your dentist. If you are only suffering from bad breath from either an internal or oral problem fortunately for you this problem is often easy to fix.
Studies show that about 80% of bad breath comes from an oral source. For instance, cavities or gum disease can lead to bad breath, as can tonsils that have trapped food particles; cracked fillings, and less-than-clean dentures. What helps: Good oral hygiene, regular visits to your dentist, and ruling out any underlying conditions or other factors (such as some medications, diets, and foods) that could make your breath less than pleasant.
When the enamel on your teeth erodes, food particles can get deposited in those holes, called dental caries. Because brushing your teeth can't remove these food deposits, they can eventually grow bacteria, which produces a bad smell. Gingivitis is another medical condition that may cause bad breath. When the gum becomes inflamed with bacteria, it can result in severe pain and foul smelling discharge.
Maintaining good oral hygiene is important in keeping bad breath away. Make sure you keep up your oral hygiene routine by brushing your teeth at least twice a day for a minimum of two minutes, followed, by a thorough flossing session, and then a rinse with some mouth wash to seal in the cleanliness and fresh breath!
A quick breath check can save you from more than just an awkward social situation — it could tell you if you've got an underlying dental problem.
For more information on oral health contact Dr. Rosenbuch at (561) 394-7888 or visit our website at https://cliverosenbuschdds.com/