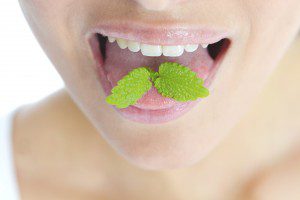 No one wants or likes to hear they have bad breath, but it's worse not to know it. There can be many factors to your bad breath, and all are treatable. While poor dental hygiene accounts for most cases of halitosis, bad breath can sometimes signal another underlying medical condition. If you are experiencing bad breath start with a visit to your dentist. If you are only suffering from bad breath from either an internal or oral problem, fortunately this problem is often easy to fix.
Studies show that about 80% of bad breath comes from an oral source. For instance, cavities or gum disease can lead to bad breath; tonsils that have trapped food particles, cracked fillings, and less-than-clean dentures. Good oral hygiene, regular visits to your dentist, and ruling out any underlying conditions or other factors that could make your breath less than pleasant (e.g. medications or diet).
When the enamel on your teeth erodes, food particles can get deposited in those holes, called dental caries. Because brushing your teeth can't remove these food deposits, they can eventually grow bacteria, producing a bad smell. Gingivitis is another medical condition that may cause bad breath. When the gum becomes inflamed with bacteria, it can result in severe pain and foul smelling discharge.
So what do you do to prevent bad breath from happening? Maintaining good oral hygiene is important in keeping bad breath away. Make sure you keep up your oral hygiene routine by brushing your teeth at least twice a day for a minimum of two minutes, a thorough flossing session, and a quick rinse with some mouthwash to seal in the cleanliness and fresh breath!
In between your oral routine it is important to keep one thing in mind: Saliva is our first line of defense against bad breath! And what causes us to create this magical dental friend? Chewing. Every meal you eat, every snack you nosh on, every piece of bubble gum you chew is all helping to create the saliva that fights against germs and bad breath. But keep in mind, it takes 20 minutes for sugar to be cleared from your mouth after its consumption. The more often you are chewing on something sugary, the more often you are exposing your teeth to more bacteria, so try to keep these munching spurts less sugary and more healthy. Sugar-free gum & candy is great, but so is a handy bottle of water. Keeping a nice balance will not only get those salivary glands working, but will also help out the cause when you don't have a toothbrush handy.
There are some conditions that will, in fact, prevent a healthy amount of saliva in our mouths. Certain medications or diseases can also affect the way your body produces saliva. Dry mouth, or xerostomia, is more likely to develop conditions like rapid tooth decay, gum disease, cavities or even bad breath. This may be able to be cured naturally by drinking lots of water and chewing on sugar-free gum or candy, but more than likely, you should have a medical professional give you their opinion as it could be preventable.
A quick breath check can save you from more than just an awkward social situation — it could tell you if you have an underlying dental problem.
If you feel bad breath has become an issue, contact Dr. Rosenbuch at (561) 394-7888 or visit our website at www.cliverosenbuschdds.com.
Dr. Rosenbusch proudly serves Boca Raton, Del Rey Beach, Deerfield Beach, Coral Springs, Boynton, Ft. Lauderdale and all surrounding areas.